On 08 May 2023, the first session of the training programme "Training for Trainers on Promoting Integrity in the Public Service" was held, organised by the High School of Public Governance in cooperation with the MATRA project "Good Governance and Integrity in the Public Sector in Ukraine", implemented with the support of the Ministry of Foreign Affairs of the Kingdom of the Netherlands and the Hague Academies of Local Government.
Nataliia Aliushyna, Head of the National Agency of Ukraine on Civil Service, welcomed the participants. She stressed the importance of implementing integrity standards in Ukraine and thanked for the fruitful cooperation with the MATRA project and the Hague Academy of Local Government.
In her speech, Nataliia Aliushyna focused on the changes that have taken place both in the public administration system and in approaches to professional training of public servants: "In order to strengthen the institutional capacity of central executive authorities and meet the needs of the professional training system, a platform is being created on the basis of the High School to form a "pool of trainers" who will ensure the implementation of training programmes on strengthening integrity in public authorities using best practices for sustainable and effective management of integrity in the public service," said the Head of the NAUCS.
Accompanied by the trainers of the Hague Academy of Local Self-Government Marianne Cirelson, Alan Hekstra, Maurits Furtis, the participants of the training got acquainted with the rules of integrity and ways of its implementation and promotion in public institutions. The training resulted in a number of ideas on practical steps to implement an integrity management system in public authorities.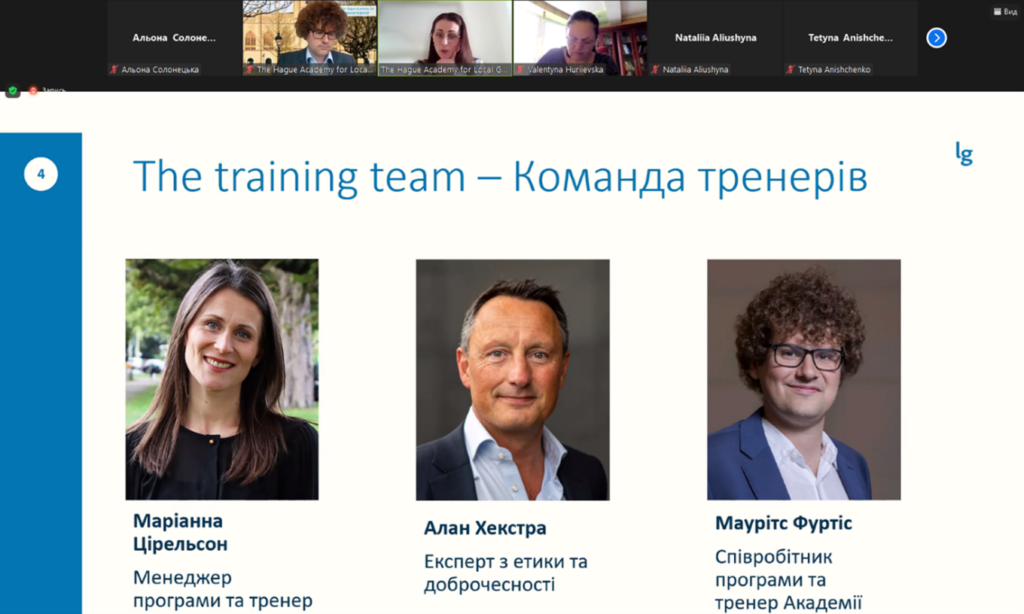 The training was attended by representatives of central executive authorities, highe education institutions and non-governmental organisations.