From 30 May to 3 June 2023, representatives of the High School took part in the training programme "Women in Organisational Leadership" in the second phase of the GIZ project "Professional Civil Service and TVET in the Eastern Partnership Countries" in Berlin, Germany.
The training covered the conceptual and practical understanding of management and leadership in public administration, as well as the prospects for leadership with power and influence in various sectors.
Participants also had the opportunity to implement the tasks of the xChange simulation game in the leadership of team change: they formed a common strategy using a set of tactics to achieve goals.
The Head of the Centre for the Development of Competencies in Human Rights, Non-Discrimination and Gender Equality Ludmyla Mykhalyk and the Deputy Head of the Centre for Professional Development on European and Euro-Atlantic Integration Valentyna Lisovska took part in an expert discussion with Webke Weiger, Advisor, Head of the Digital Lab for Social Solutions at the Federal Ministry of Labour and Social Policy (BMAS Germany) on public administration and digital leadership.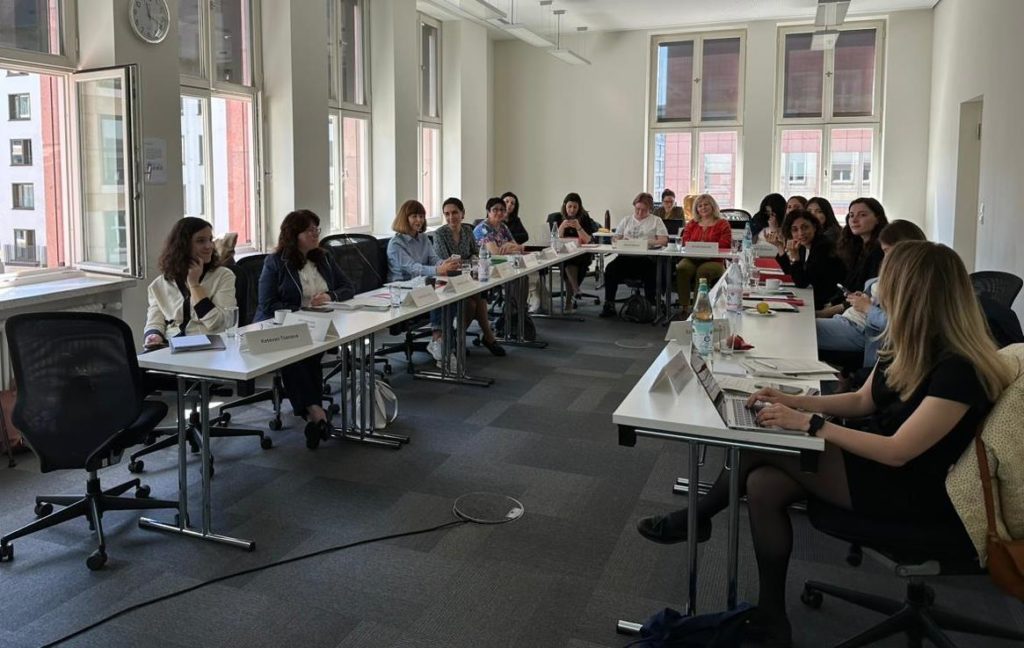 The workshop on communication tools for women leaders and leadership styles was conducted by Prof. Dr Andrea Remmele. An introduction to individual and collective sources of power was given by Johann Mayer, Professor of Organisation, Strategy and Leadership, PhD. During the session on adaptive leadership with Latica Tomasic Kickert, lecturer in global adaptive leadership at Harvard Kennedy School of Government, the differences between leadership and power and management were identified. In particular, they discussed the issue of values-based leadership; authority, power, gender social expectations. They considered leadership from the perspective of different degrees of official authority; functionality versus systemicity and dysfunctions of the public sector; reasons for resistance to change and the costs of making such changes. Participants identified strategies to overcome resistance to change: stakeholder mapping to diagnose leadership. The concept of "Leadership Inside Out" was implemented to develop methods of personal leadership and practices in public administration. The topics of social constructs that affect the ability to show full leadership potential, including gender, identity, belonging and loyalty, are discussed and applied to our own examples. The difference between feminist leadership and women's leadership is defined. The tools needed to lead and manage risks and potential crises associated with implementing change are prepared. During the group work, leadership problems were diagnosed as potential obstacles, and the resources necessary for the practice of leadership in the organisation were identified.