During the first day of the School of Strategic Training, the participants worked on the first module, "Country Development Strategy".
The participants discussed topics relevant to the development of the public service in the form of a game. These included – principles of the policy development cycle in line with results-based management, a human-centred approach to analysing the current state of the policy area, analysing the situation and identifying citizens' problems, and generating policy options.
The opening remarks were delivered by Nataliia Aliushyna, Head of the National Agency, Taniya Lei Sanford Ammar, Director of Alinea International Ltd in Ukraine and SURGe International Technical Assistance Project (Canada), and Oleksandr Bogomolov, Director of the Institute for Strategic Studies.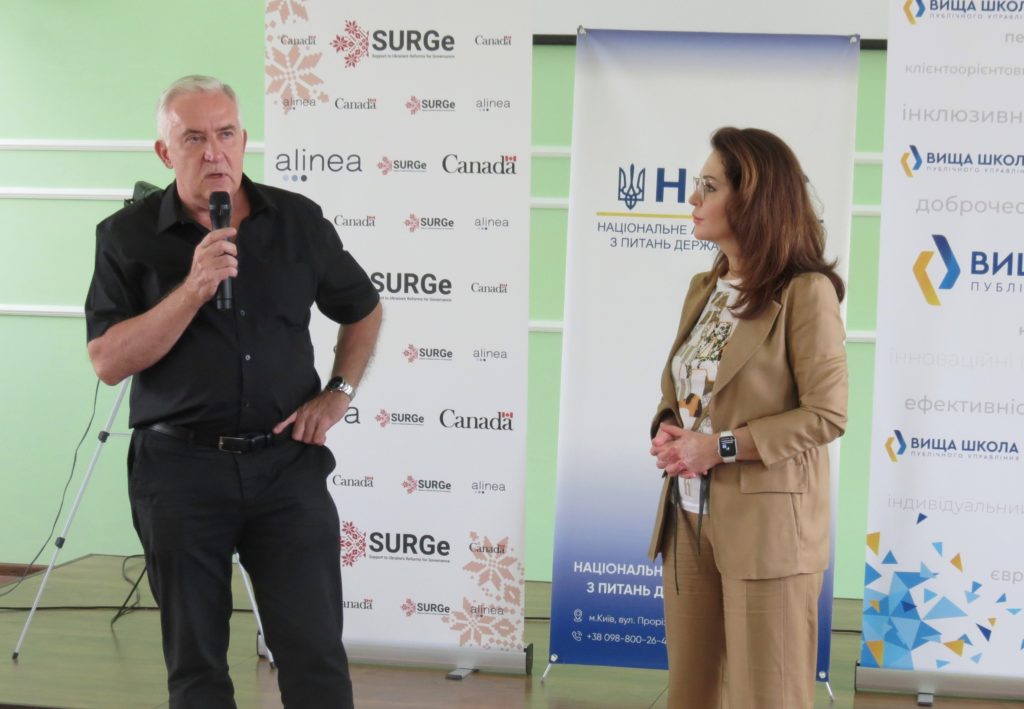 Trainers of the first module were Maria Plaksenko, Head of Capacity Development at SURGe, PhD in political science in National Security; Maryna Chulaevska, Senior Strategic Planning Expert at SURGe, PhD in public administration; Tetiana Danyliv – Strategic Planning expert at SURGe, Master of sociology; and Viktor Artemenko, Strategic Planning and Policy Development consultant.
The purpose of the School of Strategic Training is – developing a modern managerial outlook among top public service managers through the acquisition of knowledge and skills in strategy development, which is essential in the post-war reconstruction environment.

The next module, Strategy for the Development of Public Spheres, will be held on 19 July.
The third module, Organisation Development Strategy, is scheduled for 9 August and will be taught by Mykhailo Krikunov, Dean of Kyiv Business School, PhD in engineering.
The fourth module of the School of Strategic Training is scheduled for 23 August. Strategic planning and policy development consultant Viktor Artemenko will teach the topic "Personal Development Strategy".
Also on this day, Nataliia Aliushyna, Head of the National Agency, will conduct a training on responsible leadership in public administration.
Finally, there will be a presentation of the results of the School of Strategic Training with the presentation of certificates.
In addition, four online training modules are planned. In particular, on strategic communications (lecturer – Roksolana Stadnyk, Director of the Department of Information and Public Relations of the CMU, PhD in law), on gender-oriented governance (lecturer – Kateryna Levchenko, Government Commissioner for Gender Policy, Doctor of law), on integrity strategy in the public sector (lecturer – Iryna Chahovets, Head of the Department of Educational Work and Training Programmes of the NACP).
For reference:
On 5 July, the School of Strategic Training was launched. It is an initiative of the National Agency of Ukraine on Civil Service and the High School of Public Administration together with the Support to Ukraine's Government Reforms (SURGe) project.
The innovative educational platform for category A civil servants was created on the basis of the High School of Public Administration.
The case studies to be taught by experienced teachers and trainers include strategies for the development of certain areas of public administration, individual public authorities, and personal development of the leader.