In accordance with the Decree of the President of Ukraine "On Europe Day" of 19 April 2003, Europe Day was established in Ukraine and is celebrated annually on the third Saturday of May.
 
The decision of the European Council to grant Ukraine the status of a candidate for accession to the European Union was a significant impetus for further implementation of European standards of public administration in Ukraine, increasing the capacity of public authorities to carry out comprehensive reforms in various areas of public policy, including the civil service.
 
The National Agency of Ukraine on Civil Service, whose mission is to develop a professional, efficient, stable, politically impartial civil service that meets the principles of good governance and the standards and best practices of EU member states, initiated the Europe Week on 08-12 May 2023.
 
The event is organised jointly with the High School of Public Administration and the Centre for Adaptation of the Civil Service to the EU Standards with the support of the Western Ukrainian National University, the National Commission for State Language Standards, the National Technical University of Ukraine "Igor Sikorsky Kyiv Polytechnic Institute", the National University of Life and Environmental Sciences of Ukraine, the National University of Chernihiv Polytechnic and the National Forestry University of Ukraine.
The event is scheduled to take place within the framework of the Europe Week:
Presentation of the report on the results of the surveys to assess the capacity to implement EU law in Ukrainian legislation (08 May 2023).
Thematic days:

Human Rights, Non-Discrimination and Gender Equality Day (09 May 2023);
Presentation of the EU human rights platform and legislator (10 May 2023).

OECP/SIGMA Programme for Ukrainian Public Servants: Highlights (11-12 May 2023).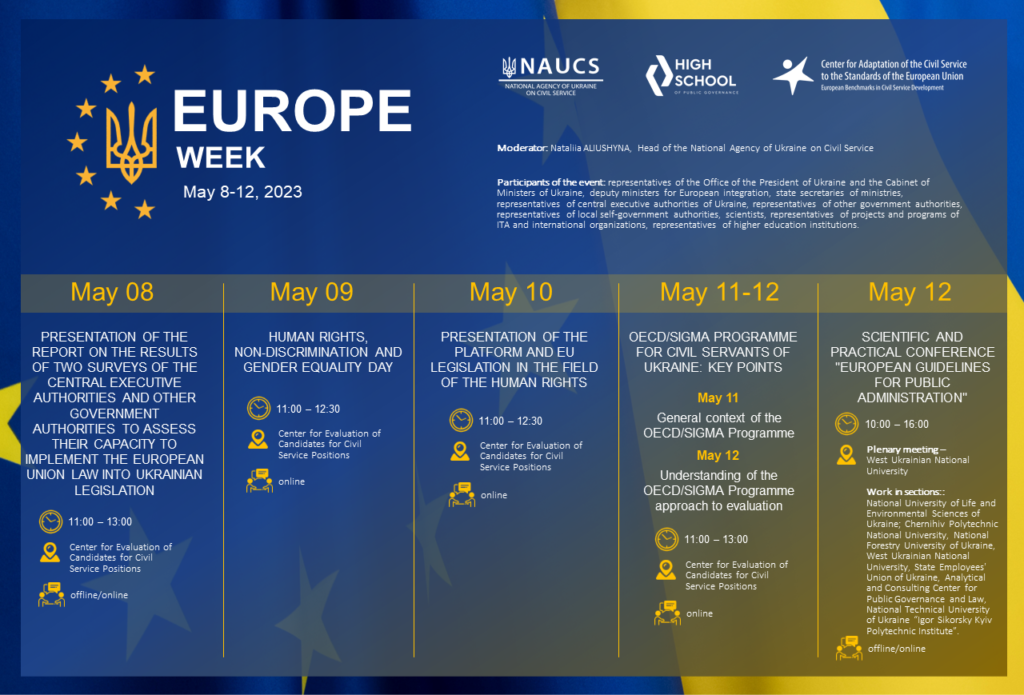 The Europe Week will conclude with a scientific and practical conference "European Guidelines for Public Administration", which will be held on 12 May 2023 at the Western Ukrainian National University, Ternopil.
Its goal is to integrate efforts in finding effective approaches to addressing current theoretical, methodological and practical challenges related to the formation and functioning of an effective public administration system in accordance with the SIGMA principles of public administration.
The conference will result in the publication of a collective monograph "European Guidelines for Public Administration".
Representatives of the Office of the President of Ukraine, the Cabinet of Ministers of Ukraine, Deputy Ministers for European Integration, State Secretaries of Ministries, representatives of central executive bodies, other public authorities, local government officials, academics, representatives of ITA projects and programmes and international organisations, representatives of higher education institutions are invited to participate in the Europe Week events.

 
Form of the event: online and offline format.